How to create a CTOUCH Sphere connect code
Installing the CTOUCH Riva R2/D2 or Neo display models requires a CTOUCH Sphere account and completing two actions: creating a connect code in CTOUCH Sphere and completing set-up on the display. In this tutorial we guide you through the creation of a connect code in CTOUCH Sphere.
Before installation of the CTOUCH Display, the party who will manage the touch screens needs to create a connect code/registration code. NOTE that in some firmware versions the set-up wizard of the screen refers to the connect code as 'registration code'. This is the exact same as the connect code.
During installation the installation team will need to enter this code on the display. It is not possible to complete the first time installation without a connect code!
It is not required to create a unique connect/ code for each display. A connect code can be used for multiple displays.
Important: for best use of CTOUCH Sphere, please use Microsoft Edge or Google Chrome.
1. Log into CTOUCH Sphere
Log into CTOUCH Sphere (https://ctouchsphere.eu/). If you have not created an account yet, please click Creating a CTOUCH Sphere Account.
2. Go to settings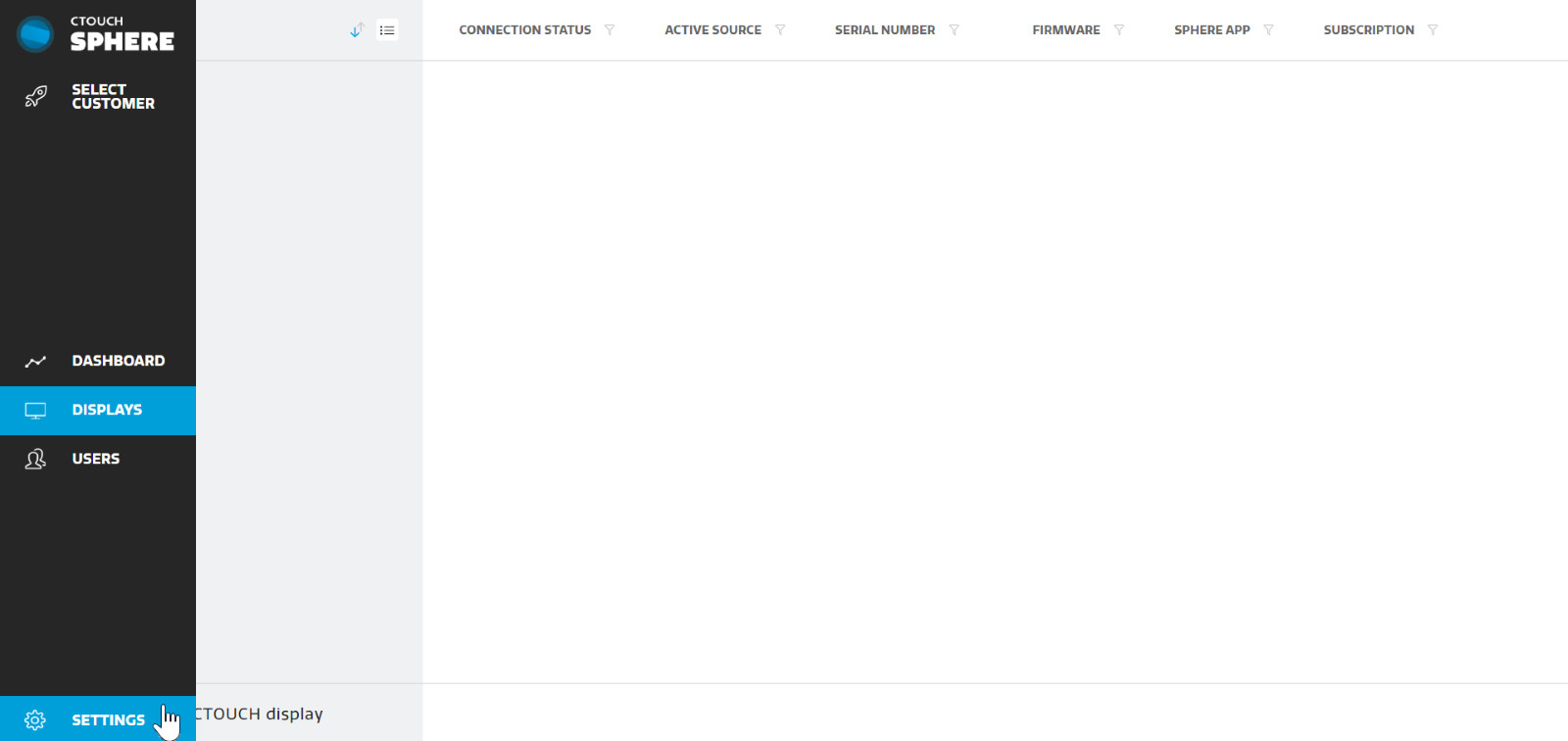 Move your mouse to the bottom left and then click the Gear icon to go to 'SETTINGS".
3. Create code
Click the button "CREATE CODE". A connect code will automatically generate. A valid generated connect code will exist of 8 digits and has random combinations of small/capital letters as well as numbers.
For a dealer/reseller with a Sphere dealer account:
Select your customer in the Company field you want to create the connect code for. If your customer is not listed here, please ask your customer for permission

as dealer

to manage your customer screens. Therefore, you must tell your customer to use your dealer code in their Sphere settings which will give you permission

to manage their screens

as a dealer

. If this permission is granted, you are now able to find and select your Customer under the Company field.

Type your project name. You can enter, for example, the school building name or installation day.
Select the day until the code is valid.
Click 'CREATE'.
Your connect code will appear in the list 'CONNECT DISPLAYS' at the bottom of the page. Important: you cannot retrieve the connect code from the display. If you lose the connect code, you can generate a new code and enter it in the Sphere app on the touchscreen. This will terminate the existing connection.
* NOTE that in some firmware versions they refer to the Registration code during the setup Wizard of the screen which is the exact same as the Connect code.
For extra information regarding CTOUCH Sphere please see User Manual Sphere