Issue: Cannot find certain screen's AirServer when pressing Windows Key + K
When you are unable to discover AirServer using Miracast (used by Windows 10/11 and Samsung devices), there can be a number of possible causes. Note that Miracast makes use of Wi-Fi-Direct and does not rely on local network. It uses a dedicated Wi-Fi access point on the screen, so network configuration should not impact Miracast.
Check: Has AirServer name on this screen been renamed possibly, then try removing - previous - screen name from Windows:
Windows 10:
Press Windows Key + K
Choose "Find other types of devices" at the bottom of the sidebar that appeared
Find the AirServer which does not work in the list of "Wireless displays & docks"
Click it and choose "Remove device"
Try to connect again by pressing Windows Key + K
Windows 11:
Right-click "Start"-menu (four squares icon) and click "Settings"
Click "Bluetooth & devices" on the left menu and then "Devices" button in the main area
Under "Wireless displays & docks", select the screen you want to remove and click the three vertical dots
Click Remove and try again to connect to the display by clicking Windows Key + K
Issue: Miracast mirroring requires a Miracast-compatible graphics adapter/card and a Wi-Fi adapter/card.
Check: Check if your computer supports Miracast by following these steps:
Open up a Command Prompt and type "netsh wlan show driver" command
Command prompt will show you whether or not your device supports Wireless Display (both Graphics and WiFi driver should be 'yes')
If your computer does not have a Wi-Fi Adapter or a Wi-Fi adapter that is compatible with Miracast: Download and install/re-install the latest driver updates for your Wi-Fi adapter then restart the computer.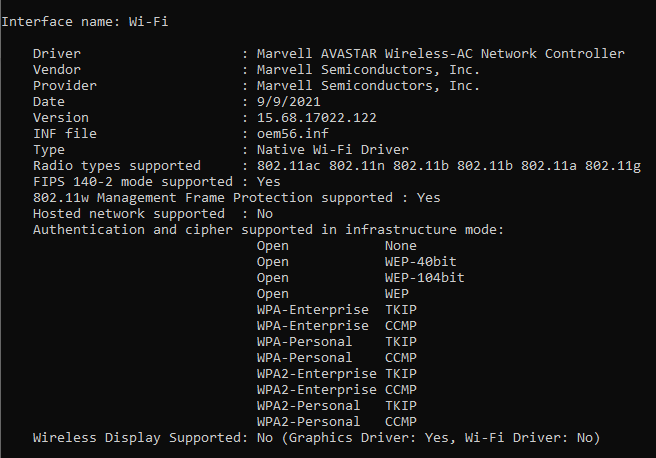 Issue: At least NDIS 6.3 driver is required
Check: Open Powershell and type "Get-NetAdapter | Select Name, NdisVersion"
Output will show NDIS version for the Wi-Fi adapter
If the command prompt displays the "The Wireless AutoConfig Service (wlansvc) is not running."-error, you can try to enable to. Instructions can be found in a dedicated support article.

Issue: If you are a corporate user, issue may be related to your company's Group Policy:
Check: Group Policy located is at Computer Configuration > Policies > Windows Settings >Security Settings > Wireless Network (IEEE 802.11) named Don't allow Wi-Fi Direct groups is the issue.
Disabling this specifically and re-applying has fixed Miracast issues for some. If it is still not working for you please find more related suggestions over here.