How do I add a CTOUCH touchscreen to Sphere which is already installed and operational (in use)?
1. Click in the displays overview in the lower left of the screen on the button "Add a CTOUCH display".

Fill in a display name, location (enter a new location or choose in the dropdown menu for an existing location) and enter the serial number of the CTOUCH touchscreen.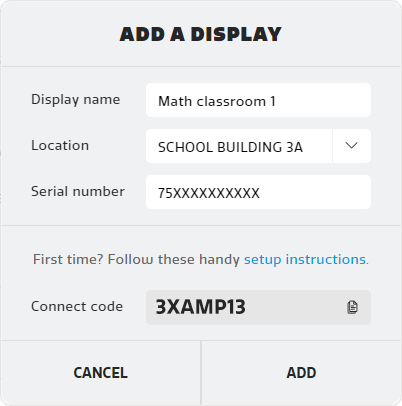 * information above is just an example
Remember or write down the connect code and press "add".
Now, the screen is added to Sphere but still 'offline' because a connection with the touchscreen must be made.
Next, open the Sphere App on the display and enter the serial number of the touchscreen and enter the connect code. Finally, press "connect" and the connection is made between the touchscreen and Sphere. The connection status is shown in the Sphere App. The Sphere app can be closed now.