How to clean my CTOUCH display?
To maintain the 'showroom shine' of your CTOUCH screen, we recommend using Wipe and Shine for cleaning! Your dealer can order this for you (article number 65000041).
To clean a CTOUCH display, wipe with a soft, dry cloth. Clean the cabinet with a soft, lint-free cloth. If the cabinet is especially dirty, moisten a soft, lint-free cloth with CTOUCH Wipe & Shine, squeeze the excess moisture from the cloth, then wipe the cabinet with the cloth.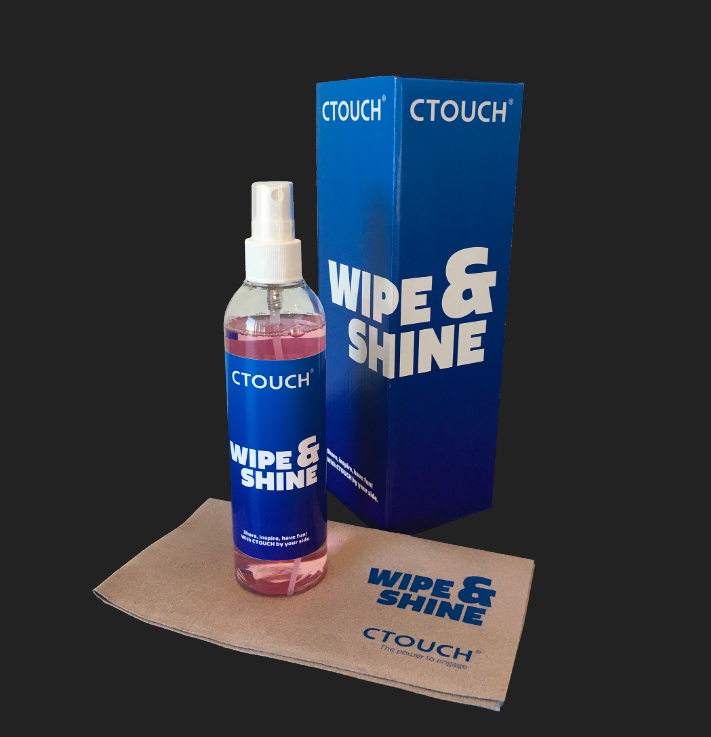 • Use a clean cloth to dry the cabinet.
• Use Wipe & Shine to remove stubborn dirt from the screen.
• Never use alcohol, paint thinner or benzine to clean this device
- Cleans and removes 99% bacteria and germs
- Streak-free result
- The product does not run out (No Drip)
- Does not attack the coating (pH-Neutral)
- Does not contain harmful substances or abrasives
- Does not harm the environment
- Is child friendly, does not contain any risk when used by children
Besides washing your hands before using shared devices, it's good to know that the envelope of the COVID virus is made up of 'fat'. So for this reason Wipe & shine will contribute breaking down this lipid membrane!
Material Safety Data Sheet can be downloaded here